Online Monitoring System For Spinning
Online Production & Power Monitoring
for Ring Frame, Speed Frame, Comber,Lap Former,Draw Frame, & Carding
Micro Information of each Point
Identify Weak Areas
RPM
TPI
Production in KGS
Production in Hanks
UKG
Doff Stop
Creel Stop
Lapping
Other Stops
Cop Buildup vs Speed
Reduces
Machine Down Time
Operator Work Load
Power Cost
Air Consumption (optional)
Increases
Productivity
Power Utilisation
Operator Efficiency
Optimise**
Speed Pattern for a lower power consumption
Balance Cost vs Production
Prevent avoidable stops
Monitor Health of Motor
Identify Mechanical Alignment of Drive Shaft, Bearing, Lubrication
Compare Various Motors / Machines Running the same Count
Bring Low performance Machine on par with the best
Online Production & Power Monitoring
for Blow Room, Auto Coner, Humidification Plant,Compressor, Lighting Load & Other Areas
Micro Information of each Point
Identify Weak Areas
Voltage
Current
PF
Frequency
KVA
KWH
Power Graphs
Reduces
Machine Down Time
Power Cost
Increases
Productivity
Power Utilisation
Wiring Diagram of Datalog Power Monitor on Ring Frame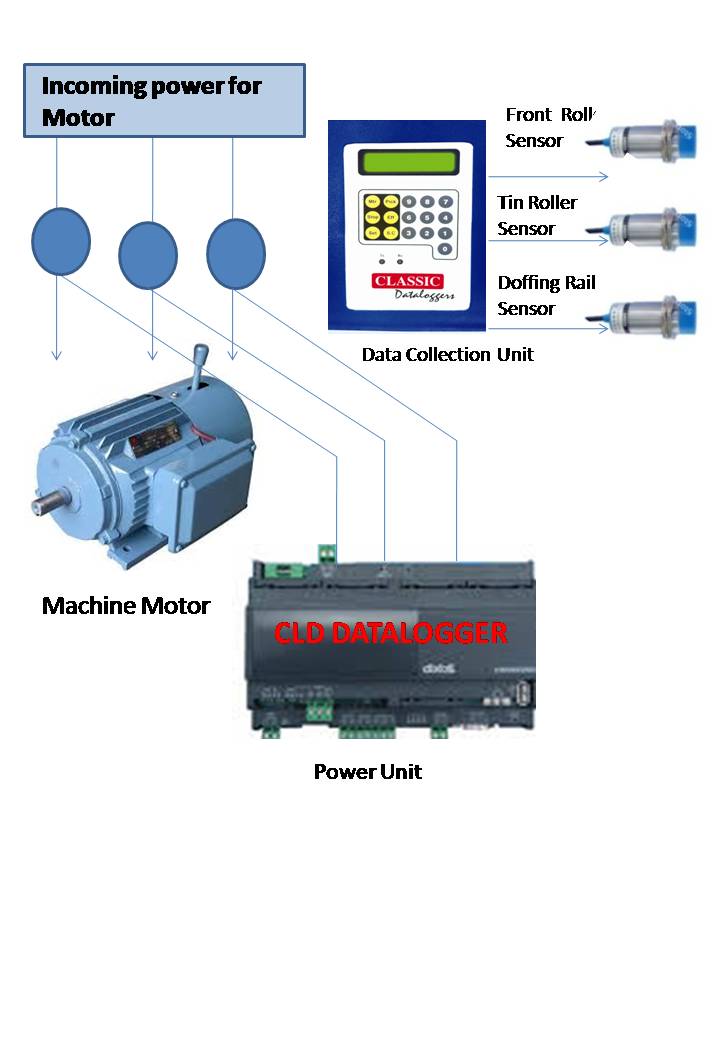 Classic Loom Data at the heart of productivity
When it comes to providing total solutions for textile automation, Classic Loom Data is in a league on its own. Incorporating innovative technologies, Classic Loom Data has quietly established its reputation as a trusted partner in progress for customers cross the Globe. Strong focus on R&D and clear perception of customer requirements have contributed to the company's ability to provide customised solutions to help improve productivity and quality. Classic Loom Data's facilities are top-of-the-line. A dedicated team of engineers backed by highly experienced technical people at the helm ensures that every product from their stable delivers results.
Hardware and Software configuration
A Data Collection Unit is installed on each machine to monitor Production and Power data (optional). Data Collection Units are connected through the Data Communication Unit to the Central Computer that generates various reports. Connection from the Data Collection Units to the central computer can be wired or wireless.
Data Collection Unit with LCD Display and Keyboard
Data Collection Unit with 7 Segment Display – Its viewed by all in shed and it enhance to improve productivity.

Report Sructure
The reports can be called on the screen or on the printer. The user can get all the information at their fingertips
Text & Graphical Reports
MachineWise, ArticleWise, OperatorWise, Supervisor Wise, Department Wise
Production Reports, Stoppage Reports,Doff Report, Doff Prediction Report, Efficiency Reports
Performance Reports ,Efficiency Trend Graphs,Comparison Reports, Assignment Reports
Power consumption,Power factor,Units consumed, KVA,etc.,reports related to power
Power consumed vs Production comparison for each DOFF, Shiftetc.,