Online Monitoring System For Weaving
Monitor Performance. Enhance Productivity
Productivity is assured by the continuous performance of every single loom in the mill. Unwanted stoppages can throw a spanner in the works and drastically impact production schedules. That is why it is imperative to invest in Online Production Monitoring Systems. Trusted by leading mills worldwide, the Classic Loom Data Online Data Acquisition systems deliver results.

Classic Loom Data Online Data Acquisition System facilitates continuous monitoring of each machine individually and collectively. The data is processed and useful reports generated help in the seamless running of all operations. All contributing to better productivity which, of course, translates into higher profits
Information at the click of a button
Classic Loom Data Online Data Acquisition System is feature rich and provides integrated information at a click. The software for the Online system is in Visual Basic with SQL server or Oracle as backend.
Benefits of Data Acquisition System
Integrated information solutions covering all types of LOOMS

Combination of loom types on one computer

Viewing of Production, Stoppage, Efficiency & Speed information on the machine

Reason for long stop can be entered on the machine

User friendly menu driven software on the computer

Various reports on Production, Stoppage, Efficiency, etc

Beam Runout Reports for Beam Planning

Comparison reports on Machines, Weavers, Shifts, etc.,

Performance reports for Top Level Management

Snap Study on Running / Stopped Looms

Exception reports on Efficiency, Production & Stoppage limits

Weaver Planning

Easy identification of Efficiency of the machines in different colours

Various Graphical reports in Line graph, Bar graph, 3D Pie Chart, Scattered graph

Efficiency Trend Graph of a Shift, Day

Modular design & hence easy to add new machines

Standard Computer & Printer

Standalone or Network operation

ERP Interface / Excel Transfer

Optional – Score Board to Display the Efficiency of the shed

Optional – SMS Alerts Module

Optional – Reports by e-mail
Data Collection Unit

The Machine Terminal comes with an in-built microprocessor, a user friendly keyboard and display for ease of operations. The data collected from the machines are transferred to a central computer Online.
Software 

The computer, on which the Online Data Acquisition system software is installed, collects the data from the Data Collection Unit instead of Machine Terminal through the Data Communication Unit and generates various reports. The software acquires the data from the looms and arranges in well-structured reports, which can be easily interpreted. The reports can be called through the Menu Driven User Friendly Software. GUI nature of the software eliminates the complicated keystrokes and codes. It has the facility to transfer the data to an ERP system. The software can be installed on various nodes across the plant.
Configuration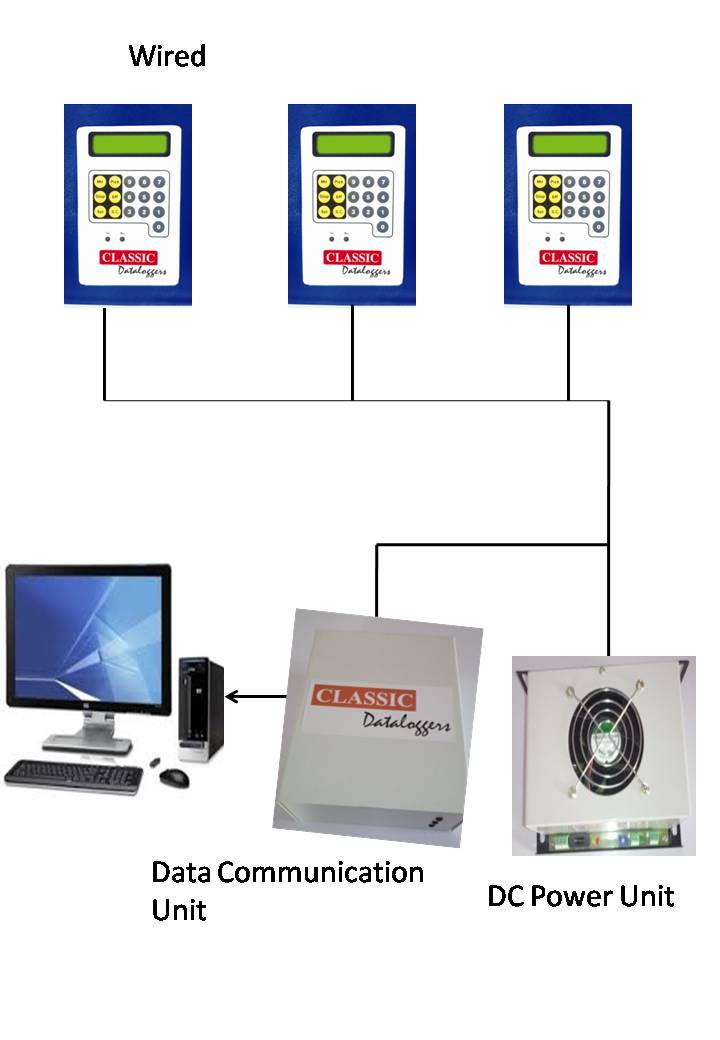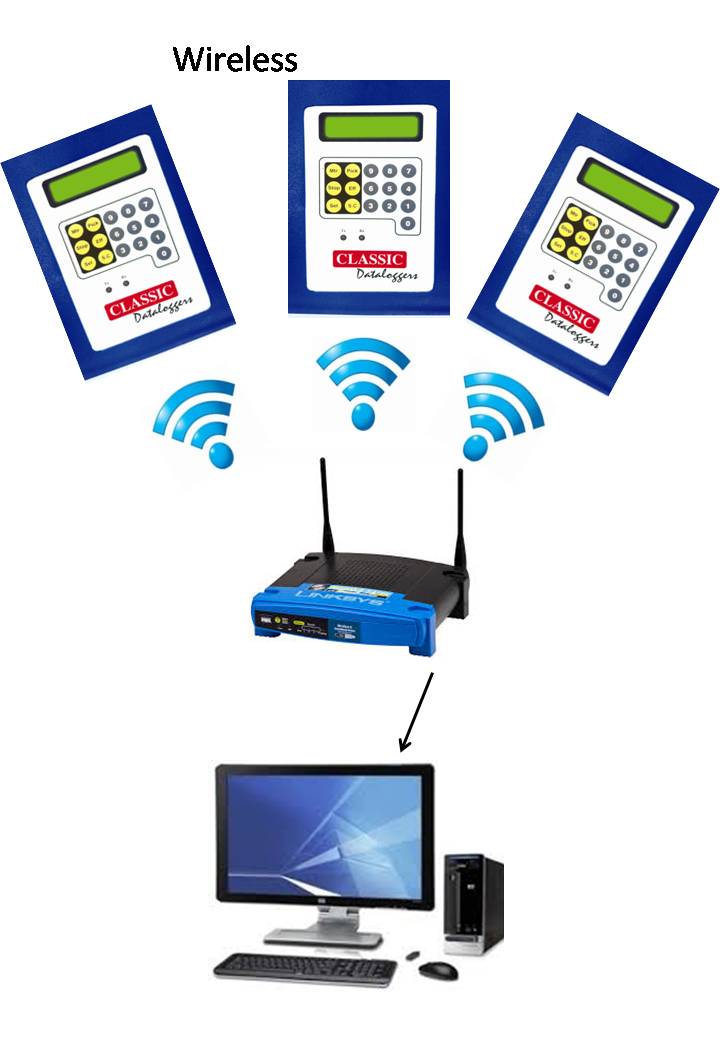 Report Structure
Reports are available in the following options: 

Text & Graphical Reports 
Machine Wise, Style Wise, Weaver Wise, Order wise, Operator Group wise, Supervisor Wise ,Yarn Supplier wise, Beam wise, Department Wise & Machine type Wise.
Production Reports, Stoppage Reports, Beam Planning, Efficiency Reports, Performance Reports,Roll Doff, Efficiency Trend Graphs, Comparison Reports & Assignment Reports.

The above reports can be called on the screen or on the printer. The user can get all the information at their fingertips. By taking the appropriate steps the efficiency of the Shed / Weaver can be increased immediately.

Classic Loom Data at the heart of productivity  

When it comes to providing total solutions for textile automation, Classic Loom Data is in a league on its own. Incorporating innovative technologies Classic Loom Data manufactures Online Data Acquisition Systems for Spinning, Weaving, Knitting and Fabric Inspection System. For the past one and a half decades, the company has quietly established its reputation as a trusted partner in progress for customers across India, All over world. Strong focus on R&D and a clear perception of customer requirements have contributed to Classic Loom Data's ability to provide customized solutions to help improve productivity and quality.

Classic Loom Data's facilities are top-of-the-line. A dedicated team of engineers backed by highly experienced people at the helm ensure that every product from their stable delivers results.  
Classic Loom Data SMS/Mail Alerts (Optional)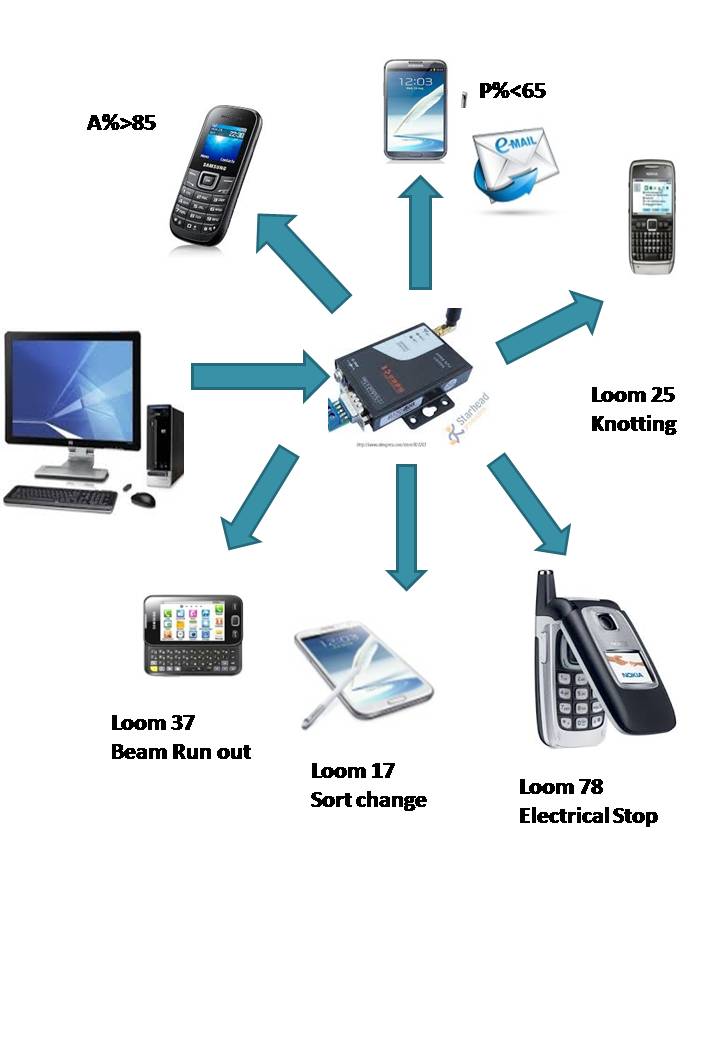 Monitoring the performance of your mill has never been this easy. Classic Loom Data will keep you connected wherever you're in the world. Classic Loom Data SMS/Mail Alerts Module will send you alerts automatically on Production, Efficiency, Stoppage, Minutes per Stop, Breaks per Hour and other required information as and when it reaches a preset value of your choice.

Advantage:


End of Shift and End of Day data alerts, various alerts at selected intervals (eg.. Every hour) can be sent by SMS/Mail to various mobile numbers/Mail ids of customer's choice
Classic Loom Data SMS Module comes with hardware for installing SIM Card and a software to program the mobile phone numbers, alerts and the frequency of alerts.
Classic Loom Data keeps you connected with your mill 24 x 7 around the world.
Put up a Score Board. Step up productivity (Optional)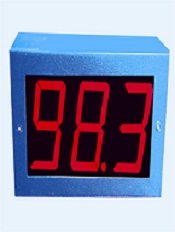 Classic Loom Data also offers you Score Board as an optional product available in two sizes. The large display score board displays the performance efficiency of the shed and helps to motivate floor level workers. In other words, Score Board can be used as a performance enhancing tool by letting the workers know for sure where they stand in terms of overall performance. It offers a psychological boost to the workers to optimize their performance level. Score Board helps workers to assess their own performance and score better in their subsequent operations.